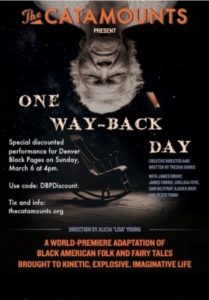 Denver Black Pages Day @The Theatre for "One Way-Back Day" – Sunday March 6
The Catamounts' world premiere of One Way-Back Day gives a platform to Black American folklore Boulder, Colorado: The Catamounts will open their world premiere of One Way-Back Day on Sunday, February 27 at the Dairy Arts Center in Boulder. The piece was conceived, creative directed, and written by Tresha Farris in collaboration with James Brunt, James Farris, Ilaesia Gray, Chelsea Frye, Sam Gilstrap, and Peter Trinh, who collaboratively adaptated the African, Black, Gullah, and GeeChee American tales and folklore passed down through oral tradition and griot story style.
Join us for DBP Day Sunday, March 6th, 4PM

The Dairy Arts Center (Carsen Theater) 2590 Walnut St, Boulder CO, 80302
Purchase tickets here:
Discount code: 
DBPDiscount
Excited to see you on March 6th!